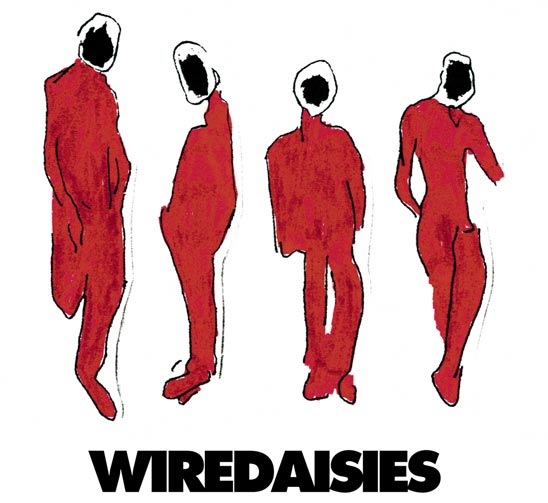 剛接觸到Wire Daisies(國內翻成 恬靜雛菊樂團)的第二張專輯"Wire Daisies",就被主唱Treana Morris的聲音感染到,有股力量直直打到心裡。看了
另立X世代+電阻E世代
對於他們第一張的介紹,發現主唱似乎跟同是英國的女歌手Dido常拿來比較,但我聽過之後覺得Morris的聲音在慢歌時既輕鬆又有些滄桑(也許是曲風),而快歌在高亢之餘有更多的生命力。很值得一聽的好聲音。Good!
Wire Daisies官網
有樂團本身的介紹如下:
It says much about the credibility of their musicianship and song-writing that in their relatively short time as a gigging band the Wire Daisies have been invited to perform as opening artists for such a wide range of musicians and performers as Robbie Williams, Deep Purple and Seal.
Wire Daisies are Treana Morris vocals and guitars, Alden Evans guitars, Ol Beach keyboards and Steve Jackson drums. The band was formed in 2002 when Ol joined Treana, Alden and Steve in Cornwall, having previously spent some time in London with Treana writing and recording.
It was Roger Taylor from Queen who first discovered Treana Morris singing in his local pub in Cornwall. He took Treana and her band on tour with him and introduced her to Queen's manager Jim Beach. Anthony Cauchi from Outside Line in London and Jim Beach had just formed an online digital record label, Transistor Project, specifically to develop and promote emerging artists. Wire Daisies signed to Transistor Project and after a further period of writing, gigging and recording the band went into Sawmills Studio in Fowey to record their first album, Just Another Day, produced by John Cornfield (Oasis, Muse, Supergrass, Razorlight) in 2003. The band then signed a worldwide publishing deal with EMI Music Publishing.
Wire Daisies set about earning their live wings with festival performances including Rock AM Ring, the Montreux Jazz and Womad festivals where they played with Air, Jamie Cullum and Alicia Keys among others. Their 2004 debut album, Just Another Day, went straight to No. 1 in the French and UK iTunes charts. The lead single "Make Everything Change" was Record of the Day and then Single of the Week on iTunes. This was followed by an invitation to perform alongside James Blunt at the Digital Music Awards. The band then went on to support Starsailor on their "On The Outside" European Tour.
With the album riding high in the iTunes charts the band continued to tour the UK extensively with a mix of headline performances and support slots for the likes of 13 Senses, Melanie C and Stephen Fretwell. The Wire Daisies kick started 2005 with the release of the stunningly beautiful Everyman, which Radio 2 added straight to their B playlist and the track subsequently entered the Top 20 airplay charts. The band signed a major deal with EMI Continental Europe and also EMI's UK label Angel, who saw the potential and organic growth the band had made and wanted to build on the current success and take it to a new level both in the UK and Internationally.
Early 2006 saw Wire Daisies perform 3 stadium support slots with their EMI label mate Robbie Williams as he kicked off his world tour in South Africa. These shows marked a return for Treana to the country where she performed with Queen, Anastacia, Beyonce, Eurythmics and Bono at the Nelson Mandela 46664 concert at Greenpoint Stadium in Nov 2003.
Later in 2006 the Wire Daisies went back into the studio and recorded their second album with John Cornfield at their own studio in Cornwall, The Barn, Redruth. With a rockier vein, the second album, eponymously entitled Wire Daisies, highlights the eclectic mix of the band's writing. The album moves from out-and-out rock tracks such as "Wake Up" and "Time Will Tell" to full-bloodied Treana Morris' ballads, such as "Never Meant To Hurt You", "Silver Top" and "Leaving So Soon".
The second Wire Daisies album "Wire Daisies" is scheduled for release by Angel Records on the joint Transistor Project / idRecords imprint, first week of May 2007.